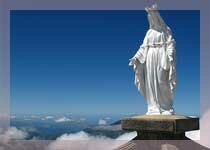 Mount Ramelau is a picturesque mountain peak that can be explored at the foot of Maubisse, approximately 70 km south of the capital Dili. It is the highest mountain in East Timor and stands tall at 2,964metres.
Many tourists drive down to Hatobuilico, and then trek through the forest which may take nearly 3 hours to reach the top. This is a wonderful location for camping and spending a night under the stars.
During the Portuguese colonial days it was considered the highest mountain among all the Portuguese colonies. It was referred to as Mt. Tatamailau during the Indonesian rule. This mountain is dedicated to the Virgin Mary and attracts pilgrims commemorating the Annunciation of the Blessed Virgin Mary, during the end of March. The statue of the Virgin Mary on the peak, bring the serenity to mount Ramelau. The statue having a height of three meters came from Italy and was erected in the year 1997, during the Indonesian rule.
Mount Ramelau can be climbed from Hato Bulico which a town having well formed paths which were originally cut to create a pilgrimage trail to the Virgin Mary statue and was once conveyable by four wheeler drive. The track, though severely degraded with massive washouts, is extensively used. A map is not required once on the track.
This mountain of Timor-Leste has great significance as they believe it homes the spirits of their ancestors. On 7 October every year, Timorese from all over the country come here for a slow overnight pilgrimage up the mountain, to thank God and have happy thoughts.
The Ramelau region was originally a huge eucalypt forest, which is now converted into farm lands. The farmers cultivate vegetables, mainly potatoes, using an unsustainable technique such as slash, burn, and move on from exhausted soil. Severe soil erosion and major land slips have resulted due to deforestation. A tree planting project has begun but doesn't have much funding or expert advice. Many of the people are now retreating to live on their former remote hillside farms where they can cultivate crops for most of the year with favorable conditions including cloud, rain and mist. In the wet season it can be dangerous and periodically impenetrable but never for long. An ideal route is to take the travel from Aimeta to Hato Bulico taking both sides of the mountain. You might need local assistance and will prove essential for those without fluent Tetum and local knowledge.