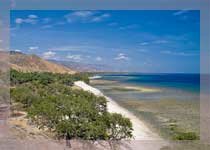 East Timor is well known for locating beautiful cities. One of those beautiful cities in East Timor is named as Baucau (Baukau). This city is located on the northern coast, which is in the eastern part of the East Timor. Baucau was formerly called as Vila Salazar.
According to the census conducted on 2004, the population of this city is estimated to be 104,571. The area of this city is 1494 square kilometers. Some of the well-known sub-cities of Baucau are such as Venilale, Vemasse, Quelicai, Laga, Baguai etc. During the colonial era, this city was the same as of now. The northern edge of this city meets the Water Strait. Some other cities such as Viqueque, Manatuto and Lautem have been bordered by this city.
When it comes to languages spoken in Baucau, Portuguese and Tetum are the most spoken languages of this city. Some other languages such as Makasae, Papuan languages are spoken by some regional tribal groups of this city. You will also find many Roman Catholics as well as Muslims making their living in this wonderful city. You will of course find Baucau in the top of the list of well-developed agricultural cities in East Timor. This city has highly progressed in the field of agriculture from past a few years. In fact, this city is well known for growing some rarely available candlenut, copra, sweet potatoes, peanuts and beans.
Speaking about the animals grown in this part of the world, goats and buffaloes tops the list. The shortage of transportation links in this city has lead to some major problems when it comes to the industrial development. It has also greatly influenced on the energy availability as well. You will be able to notice some special tunnels built by the Japanese during the era of Second World War in one of the sub-cities of Baucau named as Venilale. Coming to the natural beauties in Baucau, you will find that this city has a wide coastline accompanied with some sandy beaches. Hence, it is an ideal destination for swimming and enjoying some water sports.
The Cakung Airport located in Baucau is well known as an international airport all over the world. In fact, this is also the longest runaway airport of East Timor. Apart from this, you will also find Dili's Nicolau Lobato International Airport serving some small airliners such as Boeing 737. This airport is just six kilometers away from the Baucau city. In fact, it also served as one of the most chosen principal airports of East Timor, before the invasion by Indonesia in the year 1975. It was later taken over by the military forces sent by Indonesia. Therefore, you can visit this awesome city of East Timor in order to explore some unhidden secrets. In fact, Baucau is also known for locating some top class hotels. Since this city offers you an opportunity to enjoy many beach games and adventurous games, you will really have a great time staying in this city. You can carryout a brief online research to get to know more about this city.